Multiple Key Functions Included in One Comprehensive Suite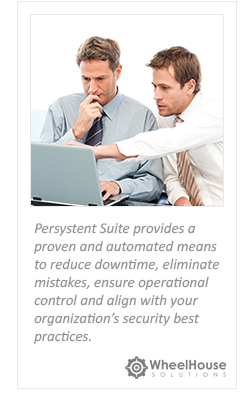 Persystent Suite provides 4 enterprise-level features, in a single cost-effective solution. Persystent Suite provides feature-rich, enterprise-level capabilities, as a single centralized solution (including repair/recovery, imaging, change management, drive sanitization), at a price point that looks good on the balance sheet and easily outperforms other market alternatives.
Persystent Suite automates PC repair without manual intervention, reducing help desk incidents by 70%:
Automatically self-heals any compromised, mis-configured or poorly performing PC in a matter of seconds
A simple reboot, seamlessly applies last known desired state through our proprietary corrective action process
Maximizes compute availability, effectively eliminates re-imaging!
Works preboot of the OS–even if disconnected from the network or the domain.
Zero-touch, end-to-automation imaging process fastest on the market
Includes NIST 800-88 compliant device wipe
Supports Windows 10 (and 7, 8, 8.1 and XP)
1. Automated Self-Healing
Simplifying the Restoration and Recovery Process
When a user reboots their PC, Persystent Suite's automated self-healing process seamlessly applies the last approved state, even if the PC is disconnected from the network. It is so simple and seamless, it gets users back up and running in about 45 seconds, preserving the integrity of the device and effectively removing the need to re-image a machine.
Automatically restores end user PCs to its last known desired state
Multiple levels of repair
Resolves most break/fix issues in seconds: promotes fix first, troubleshoot later strategy
Works on PCs and Windows-based Servers
Compliments and integrates with ITSM/client management solutions like LANDESK SCCM, Dell Kace, and many others
Reduces break/fix help desk incidents and costs by more than 70%
2. Imaging
Control the Ongoing Integrity, Consistency and Continuity of all PC Workstations
Persystent Suite maintains its status as the industry leader when organizations value the most reliable and quickest imaging processes. Whether creating a base image for a new PC or updating/ refreshing the many devices under your control, with an updated version, Persystent Suite provides a proven and automated means to reduce downtime, eliminate mistakes, ensure operational control, and align with your organization's security best practices.
75% faster than others on the market
More flexible file-level imaging, not sector by sector
Zero-touch bare metal imaging; end-to-end automation
Integrates with drive encryption and compression solutions
USB for remote imaging and disaster recovery capability
No roll back to Day Zero (unless required); profiles, settings are untouched
Manage multiple images based on your own policies
Time saving auto task sequencing includes joining a domain, changing a computer name, SID changes, and other post-imaging tasks
3. Secure Device Wipe
Maintaing DoD/NIST 800-88 Standards
When retired or recycled, hard disks still contain sensitive information, and simple deletion or partitioning will not suffice, Persystent can quickly and seamlessly erase data and sanitize the drive. Persystent's erasure capabilities also allow IT to better manage approved ideal images. It "wipes" a 256GB device in less than 40 minutes: about 10 seconds per gigabyte. Companies must take action that will leave no trace of the previous image on a device and Persystent Suite meets those needs.
Renders any drive across the enterprise unreadable and leaves no trace of previous device image
Replaces targeted data is with zeroes to ensure permanent removal
Aligns with regulatory and DoD and NIST 800-88 compliance mandates
Remote wipe; disable OS viability of lost or stolen PCs
Achieves erasure faster and with less manual intervention
4. Change Management
When the only constant in your IT environment is change
There is always a new software application, new OS version, an update, a patch, or a variety of other sanctioned changes, that affect a base image. Persystent Suite is an invaluable tool that can optimize change management. Once an image is deployed, you can manage and automatically schedule the authorized updates. It simply takes a new snapshot of the new desired state and seamlessly updates only the changes for 1 or 100,000 images. The image is successfully applied the next time the PC is rebooted.
Manage and maintain configurations of individuals, groups
Support compliance and policy enforcement
Increase patch/update distribution success with minimal disruption
Manage disaster recovery protocols
Coordinated OS transitions (including WinXP to Win 7 or 8 or 10)
Centralized web-based administrative console to set policies, schedule tasks and updates