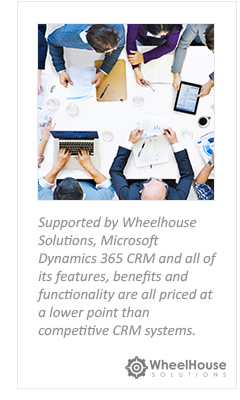 In 2016, Microsoft improved the functionality of its CRM solution with the launch of Microsoft Dynamics 365. This extension has offered companies a way to better manage business relationships by providing new and improved tools, and aid in improving their marketing, sales, and customer service processes. Dynamics 365 CRM is practical and easily used, allowing employees to optimize productivity and providing executives with more insight into opportunities, performance and relationships with customers. Dynamics 365 include modules such as sales automation, customer service, and project service, that allow businesses to improve communication with customers, team members, and prospects.
Businesses choose Microsoft Dynamics 365 CRM over competitors for several reasons. It is connected with other Microsoft products, like Office 365, Windows Server, Outlook, Exchange Server and SharePoint, which makes it more accessible to users. It has advanced, built-in tools such as Relationship Assistant and LinkedIn Sales Navigator Application Platform, which allows for a higher level of efficiency and productivity. Microsoft Dynamics 365 is also very flexible in terms of pricing, deployment options, and architecture. This customization allows for businesses to easily adjust the system to their needs.
Since Microsoft Dynamics 365 CRM works seamlessly with other Microsoft programs such as Dynamics 365 and all of the Office 365 apps, productivity and performance is easily increased. Working with Outlook allows for users to have access to existing customer information, cases, sales activities, etc. They are able to use CRM to accomplish tasks like adding new leads and tasks, making appointments, adding phone calls to customer's records, and tracking emails from Outlook to CRM records. In addition to working with Office 365, Dynamics 365 CRM seamlessly integrates with other Dynamics 365 applications. This provides the user with the ability to pick and choose what applications are most suitable for their business. Since all of the applications are Microsoft, worrying about managing integration and third-party solutions is not an issue the user will have to face.
There are several types of apps available with Microsoft Dynamics 365 CRM, all of which are capable of managing business processes such as HR, accounting, process, and sales. They can be used independently or together depending on the user's preference. The specific apps that are offered by Microsoft Dynamics 365 CRM include sales, marketing, customer service, field service, and project service. In terms of the apps available through Microsoft Dynamics 365 CRM, they are all built on the same platform which means they are easily adaptable to fit the company's needs. Sending out emails, scheduling follow-up activities, etc. are easily done. In addition to that, users have the capability to define dashboards and bring information that is most relevant to their role forward. This includes graphs, reports, etc.
Microsoft Dynamics 365 CRM and all of its benefits and functionality are all priced at a lower point than competitive CRM systems. Microsoft offers users three different levels of access, each at a different appropriate price. Businesses can then optimize their investment by only paying for full access for the users who need it. With all of the great features Microsoft Dynamics 365 CRM provides, in addition to its flexible pricing system, it's clear that it is the best model for businesses to choose.
WheelHouse Solutions serves the entire metro Dallas, Texas area, providing customized solutions to our clients. If you'd like more information on Microsoft Dynamics 365, or any of the other Microsoft Solutions, we invite you to call us today or use the form on this page to request additional information.