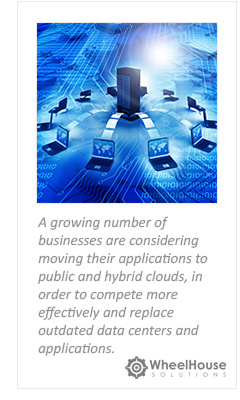 WheelHouse Solutions works with companies, nationwide, allowing them to move some of their workloads to cloud platforms. Selecting one application, to evaluate its cloud portability, is simple. If there are no significant changes to the architecture, WheelHouse will assess the compliance requirements and security, and then "lift and shift" the application to the cloud.
A growing number of businesses are considering moving their applications to public and hybrid clouds, in order to compete more effectively and replace outdated data centers and applications. Unfortunately, migrating company-wide software applications includes the risks of service interruptions, project failure and delays. Many companies are not prepared to evaluate connectivity and performance issues and migration to the cloud can take months or even years, if not properly executed. WheelHouse provides comprehensive Cloud Migration Services that utilizes best-in-class technologies, ensuring a smooth migration.
WheelHouse employs a standard methodology and effective architecture to plan and migrate your business applications, data, operating systems and configuration − based on your company's needs. These standardized methodologies shorten project timelines and decrease costs, when migrating to public clouds or between clouds, virtual platforms or data centers. Your company can take advantage of the many benefits of the public clouds, such as Microsoft Azure, Amazon Web Services and other popular cloud platforms, while working with a single vendor, providing hybrid cloud management, infrastructure and migration services.
WheelHouse can even manage complex hybrid cloud transitions and provide Infrastructure as a Service that integrates mainframe and other cloud services into an effective and reliable network. WheelHouse Solutions services include:
Cloud Assessment & Consulting
We'll analyze the cloud-readiness of your application portfolio and determine whether to "lift-and-shift", update or completely modernize
Discovery Services
We'll graph your full IT infrastructure, uncover potential needs and problems, and explore network performance.
Cloud Migration Services
We'll rapidly migrate physical and virtual x86-based, cloud-ready workloads, and re-host applications. WheelHouse will capture, deploy and sync workloads and perform testing and verification.
Discover Opportunities & Avoid Risks
Successful migrations require actionable analysis. Unfortunately, to assess the current environment, for cloud migration, most organizations must rely on the process of conducting interviews with their team and collecting data, manually. This error-prone process can lead to delays and roadblocks for moving enterprise applications to the cloud.
Cloud Readiness
WheelHouse Solutions utilizes a holistic strategy to evaluate the cloud-readiness of our customers' business applications. We help clients assess the cloud portability of their enterprise applications, using a proprietary tools framework, and then execute their migration to the Cloud. We employ analytical methodologies to rate the application fitness for the Cloud. Our methods utilize all aspects of the appropriate qualities – risk, technology and business viability.
How it Works
1. Preplanning Discussion
During an initial 30-minute consultation, one of account managers will learn more about your company's needs and objectives and answer any questions you might have about Cloud Planning Services.
2. Customized Proposal
After assessing your company's requirements and objectives, your account manager will recommend one of our Cloud Planning Services.
3. Execute Proposal
Your account manager will work with you to execute a standard consulting agreement, for fixed services or for a customized engagement.
4. Complete Engagement Preparation
Your account manager will provide you with an assessment, which you will need to complete, prior to the engagement kickoff meeting. Your account management manager will be happy to answer any questions you may have along the way.
5. Review Results & Next Steps
At the engagement kickoff meeting, we'll provide you with a detailed report, including our recommendations for a cloud adoption strategy.
WheelHouse Solutions provides cloud migration and planning services throughout the Dallas metro area. We invite you to use the form, on the right side of this page, to request additional information about our cloud migration and planning services. We'll work with you to develop a solution that will meet your needs now, as well as provide for future growth and flexibility.