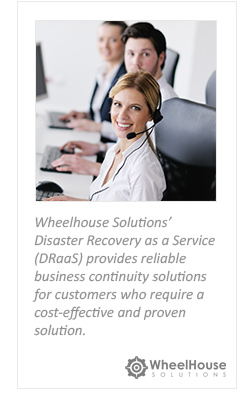 WheelHouse Solutions' Disaster Recovery as a Service (DRaaS) provides reliable business continuity solutions for customers who require a cost-effective and proven solution. By utilizing DRaaS, companies can utilize state of the art disaster recovery capabilities at a fraction of the cost of doing it themselves. Our comprehensive Disaster Recovery as a Service (DRaaS) delivers a proven disaster recovery service to businesses of all sizes, with any IT infrastructure.
Benefits of Disaster Recovery as a Service
Flexible SLAs for each customer, depending upon the nature of their cloud applications
If a disaster occurs, our cloud-based servers can quickly be accessed remotely, through a secure client portal
Scheduled checks of recovery capability can be stipulated in the SLA
Disaster recovery services can provision an entire system back to the customer and not just the base data
Fully managed and supervised recovery, that can be implemented within minutes after a disaster
Proven and tested disaster recovery procedures are implemented
In the event of a major disaster, companies need an affordable disaster recovery plan that they can rely upon. Thanks to significant improvements in replication and cloud technology, our DRaaS solution can be implemented, tested and rolled back, at the click of a button, providing our customers with the ultimate in flexibility and reliability.
WheelHouse Solutions DRaaS Features
Offsite Disaster Recovery
Flexibility to recover to any environment
Easy to test, invoke and fail-back
Fully automated recovery process
Offsite Disaster Recovery
Rapid Restore Times
WheelHouse Solutions provides Disaster Recovery as a Service (DRaaS) throughout the Dallas metro area. We invite you to use the form, on the right side of this page, to request additional information about Disaster Recovery as a Service (DRaaS). We'll work with you to develop a solution that will meet your needs now, as well as provide for future growth and flexibility.