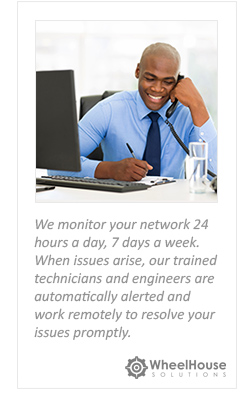 WheelHouse Solutions uses industry-leading software, with years of customization to provide the most accurate network monitoring possible. We monitor not only your servers, but your routers, switches, and desktops too. Preventative maintenance is the secret to keeping technology running optimally, and avoiding expensive down time and data loss.
24×7 Network Monitoring and Proactive Maintenance
We monitor your network 24 hours a day, 7 days a week. When an issue arises, WheelHouse Solutions technicians and engineers are automatically alerted, and work remotely to resolve your issues. More often than not, we reach out to you to let you know that the problem has been resolved before you even had a chance to notice anything was wrong.
All New Partnerships Start With A Network Assessment
At no cost or obligation, we'll come on site to perform a complete network assessment to see if your network is properly maintained for maximum speed, security, and performance. We'll look for hidden problems like spyware, failing hard drives, or out-of-date security patches, as well as check your network's security, system back ups, and other critical maintenance issues that can turn into extended downtime and expensive repair bills.
Our Proactive Managed Services Include:
Real-Time Monitoring and Alerting
24/7 monitoring of your network ensures all of the critical devices that comprise your network are healthy and functioning reliably and optimally. WheelHouse Solutions Engineers are alerted, in real time, when a possible issue arises within your network.
Cloud File Server
You have the option to securely store, share, and work with documents, anywhere you have internet access – not only with your internal team, but also with external collaborators. With enterprise level security, you decide who accesses secure files.
Secure Email
O365 Essentials provides your team with enterprise level email, calendaring, and tasks. WheelHouse Solutions combines this with our email security and spam protection to minimize your risk and improve your productivity.
Managed Antivirus Protection
Stop wasting your valuable time and energy on the selection, testing, planning, deployment, updating and reporting of your Anti-virus software.
24/7 Help Desk
Remote IT support is only a phone call away. WheelHouse Solutions' Help Desk is staffed 24/7 and designed to deliver remote support that solves our client's problems on the first call, the vast majority of the time.
Proactive Maintenance and Patching
After hours-maintenance and patching of your network is key to having it function optimally. Regularly scheduled maintenance and patching is vital in preventing major issues, optimizing performance, and minimizing security risk.
WheelHouse Solutions provides Managed Network Services throughout the Dallas metro area. We invite you to use the form, on the right side of this page, to request additional information about our Managed Network Services. We'll work with you to develop a solution that will meet your needs now, as well as provide for future growth and flexibility.